Brokerage Services - If you are looking to buy or sell your home or property check to see how we can help you with our discounted services. We have over 35 years of experience.
Sagamore Pond - 31 lot subdivision in Violet Township, Fairfield County east of Saylor Road on the north side of Stemen Road. These large lots (up to 1+ acres) have all utilities and are thoughtfully deed restricted to protect property values. Many cul de sac and pond lots. Side load garages will be required. Design your own home for construction by a BIA Builder Member. Prices start in the $90's
Auld Ridge- Located in Licking County, south of Granville this community will feature 54 home sites on 163+/- acres, with 24.5 +/- acres of common area open space. Auld Ridge will offer the ultimate in privacy, a boulevard entrance passing a tranquil pond, traffic rotaries, and home sites ranging from 2.2 to 4.4 +/- acres. PHASE II NOW AVAILABLE WITH GREAT WOODED WALKOUT LOTS AVAILABLE!!!
Notable Completed Projects:
Timber Creek- A spectacular 100-acre site featuring 60 acres of woods, 65' of topography, and over 4,000' of frontage on the Lobdell Creek. Just southeast of Johnstown. Homesites from $44,600. Lot sizes from 2.8 to 7.7 acres. Northridge and Johnstown schools. 30 minutes from downtown. Sold out!
Clear Creek Crossing- The ultimate in privacy. A gated community of 14 wooded homesites overlooking the Blacklick Creek. Lots from $119,900. Lot sizes 1.0 to 1.6 acres. Gahanna schools. All utilities. Sold out!
The Wright Farm- Another beautiful site just south of Johnstown, with great views across the Raccoon Creek valley. Features include: walk out basements, 14 acre private park along the banks of the creek, 25 minutes from downtown. Homesites from $47,000. Lot sizes from 3.0 to 7.5 acres. Johnstown schools. Sold Out!
Bennington Highland- Located in Licking County 7 miles northeast of Johnstown on Rt. 62. Many wooded lots, nice views. Lots range in size from 1.6 to 3.2 acres. Homesites from $37,000. Northridge Schools. 35 minutes from downtown. Sold out!
The Border Place- We are currently offering lots for sale in Phase 1 of this 318-lot community located in Pataskala, Ohio. Licking Heights Schools. All Utilities. Sold Out! For homesite information please contact Maronda Homes.
Jefferson Country Club- Located in Jefferson Township. Franklin County, Ohio. Previously owned and developed by principals of Dehlendorf & Company and others. The Dehlendorf Family are Founding Members.
KyleMore- A 40 lot development located in Pataskala. Licking Heights schools. From $33,900. Sold Out!
Muirfield Village- Located in Dublin, Ohio. Muirfield Limited. The general partner of Muirfield Limited was owned (in part) by the founder of Dehlendorf & Company.
Wedgewoood Country Club- Located in Liberty Township, Delaware County, Ohio. All Lots and all memberships sold out. The Dehlendorf Family are Founding Members.
Wolf Creek- A private trout fishing Club located in Coshocton County which also offers biking, bird watching, cabin rentals, fly fishing, hiking, hunting and limited spin fishing.
Dehlendorf & Company

Email

Sagamore Pond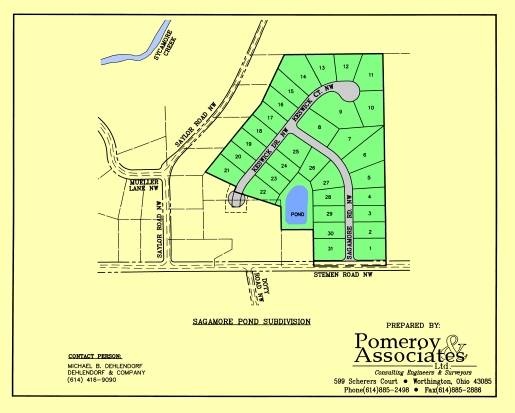 Click here to download a close-up of the Sketch Plan
Click here for a map of the area or here for directions from I-270
Click here for a copy of the recorded deed restrictions and here for summarized Design Guidelines
Click here for a copy of the recorded plat
Click here for a copy of our lot prices
· ½ to 1 acre, 100-foot plus lots
· Violet Township, Fairfield County, Pickerington Schools
· Minimum Sq. Footage: Ranch – 2,600, 2 Story - 2,800
· All Natural Elevations
· Scenic Lake
· Pickerington Schools
· 2007 Tap Fees: Water $3,460, Sewer $4,635
· 20 minutes from Columbus
· Fully deed-restricted community
· Available Now
NOW YOU CAN HAVE A CUSTOM HOME BUILT IN VIOLET TOWNSHIP AND HAVE CENTRAL OHIO'S SELECT CUSTOM BUILDERS COMPETE FOR YOUR BUSINESS
How does the process work?
Step 1 - Choose your lot
Step 2 - Enter into a Contract to purchase your lot
Step 3 - Dehlendorf & Company notifies members of the Sagamore Pond Select Custom Builders that you are in Contract and to expect contact from you
Step 4 - Meet with Sagamore Pond's Select Custom Builders
Step 5 - Receive proposals from Select Custom Builder(s)
Step 6 - Choose a Select Custom Builder of your choice and assign your Contract to your Select Custom Builder
Step 7 - Your Select Custom Builder purchases the Lot you chose
Step 8 - Your Select Custom Builder constructs your house
Below please find a chart representing the anticipated 2006 Permit and Fee charges for building in both Violet Township and Pickerington. As you can see Violet Township is approximately $5,000 less than Pickerington to build in. Sagamore Pond is located within the Pickerington School District but NOT within the Pickerington City Limits.
2006 Estimated Permits & Fees
| | | | |
| --- | --- | --- | --- |
| Violet Township | | City Of Pickerington | |
| Plan Exam | $130.00 | Plan Exam | $126.50 |
| Building Permit | $750.00 | Blanket Res Permit | $820.00 |
| Zoning | $125.00 | Zoning | $41.00 |
| Water Tap | $3,357.80 | Water Tap | $3,115.89 |
| Water Meter | incl | Water Meter | $211.97 |
| Sewer Tap | $4,011.85 | Sewer Tap | $3,933.82 |
| Sewer Deposit Fees | $500.00 refundable | Insp Fees non-refun | $80.00 |
| | | Parks & Rec | $400.00 |
| | | Storm Water | $695.56 |
| | | Urban Forestry | $463.52 |
| | | Impact Fees | $3,470.00 |
| | | | |
| Totals (less deposits) | $8,374.65 | | $13,358.26 |